Advanced Lab Work in O'Fallon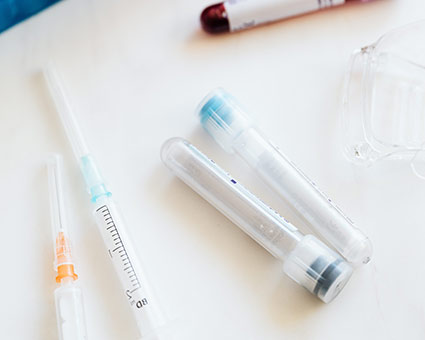 At The Wellness Connection, we believe in helping patients unlock their true health potential, and know that at times, that means offering services beyond traditional chiropractic care. We're proud to have a functional medicine offering that includes advanced lab work to help you get the best possible look at what's really going on in your body.
With us, you can have blood tests done that aren't typically ordered in routine labs at your medical doctor's office. The best part? There's no referral needed, and while insurance typically doesn't cover these tests, we work directly with the lab which saves patients hundreds, and sometimes even thousands of dollars.
Types of Testing
We can order lab work that looks at many different parts of your whole-body health, including but not limited to:
Mineral deficiencies
Inflammatory markers
Hormone markers
Stool testing
Bacterial testing
Parasite testing
Hormone panels
Stress tests
Genetic testing
Food allergies
And more
Frequently Asked Questions
Do I need to be under chiropractic care to have these tests done?
No! We welcome anyone to visit us for functional medicine and lab work even if you aren't a current chiropractic patient.
We'll begin with a consultation where we meet with you in the practice or virtually to discuss your health concerns and goals. From there, we'll order a series of tests. After getting the results and analyzing them, we'll meet with you to go over the results and recommend lifestyle changes or supplementation that could help improve your health.
No, we proudly work with patients in a number of states as functional medicine visits can be carried out virtually.
How long until I have results?
From your first consultation to your results, the process typically takes about two weeks.
Learn More Today
We'd love to help you unlock your true health potential and learn more about your body. Contact us today to book a visit and get started!

Advanced Lab Work O'Fallon MO | (636) 978-0970