New Patients at The Wellness Connection
Welcome to
The Wellness Connection
! We look forward to meeting you on your first visit. Here are the most frequently asked questions to help you get started.
First Visit
Consultation
During the appointment your chiropractor will discuss your primary health concerns and goals. If after your appointment we believe we can truly help you and you are ready for help, we will advise you on the next step of the process. Expect this appointment to be roughly 30-45 minutes.
Exam
The next step can be different for each person depending on what we feel is necessary for you to help you. In most instances we will move from a consultation to the proper exam and any necessary testing to discover what's causing your health issues. We may offer you advice on how you can resolve your issues without undergoing care or you may even be referred to another doctor that is more suitable for your condition if we don't feel we can help.
However, the majority of patients are recommended to have proper testing for further evaluation or to immediately begin treatment.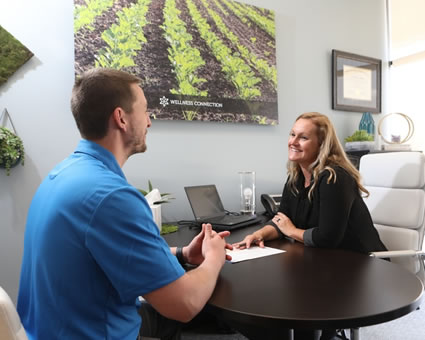 Second Visit
We will be reviewing your testing results and establishing a clear picture of what your goals and expectations are. After we have a clear idea of what your goals are, we will inform you of what our expectations are of you and what it will take for you to reach your goals. We also make sure that you and your family have all of your questions answered before beginning care.
FAQs
Will I be pressured to start care?
Absolutely not!
We are here to help you solve your health concerns with unique integrative solutions. You are not obligated to pursue any of our treatment options, ever. This is a relationship that requires both parties to agree and feel good about moving forward.
If the time to pursue care isn't right now, we want you to know that we're ready to help when the timing is right.
Some services are covered in our facility. Medical insurance doesn't pay for care that is based on supplements, dietary changes and specific labs they consider not medically necessary. Because insurance is not involved in majority of nutrition cases it allows us to treat patients naturally and in the manner in which we have found to be most effective and allows us to order exactly what is needed to help you get well. We have found that most insurances will however cover aspects of
chiropractic care
, x-rays and
therapy
. We will check on your insurance coverage as a courtesy to you in most cases.
Can I use my flexible spending account (FSA) or health savings account (HSA) for your services?
In most cases your care here will be covered through a FSA or a HSA. However, we recommend you contact your account coordinator to ensure that your plan will cover your expenses or we can help you with that if needed.
New Patient Exam
- Chiropractic Care: $40
New Patient Consultations – Functional Medicine Care: $79
2nd Visit Report of Findings : $0
Customized Treatment Programs: Range from $150-10,000 (depends on each case…not a cookie cutter approach here)
Yes, we offer payment plans in house as well as payment plans through CareCredit and other health care finance companies. Many of these companies offer up to 18 months at 0% interest. You can apply online for CareCredit or we can help you if needed.
I don't live the in the St. Louis area. Can you still help me with my health concerns?
Of course! We have worked with many clients around the globe via the internet (video and phone consults) with great success. We gladly work with people all around the world. There's no reason you can't enjoy the same benefits and remarkable results that our local clients have experienced.
Just like our local clients, we offer you a customized, one-on-one program. We do, however, ask that you schedule your first consultation to get the conversation started. Meeting and speaking with you is crucial to our understanding of you as an individual. At the same time, it's the perfect opportunity to get your questions answered and successfully launch your new health program.
Our non-resident clients often choose to get helped using phone or computer consults. Our staff is happy to assist you with the set up and instructions.
Making Care Affordable
You deserve to live a vibrant, healthy life. At our office, we never want you to worry about how you'll afford treatment. We make care affordable for you and your family.
Bill Pay


New Patients at The Wellness Connection | (636) 978-0970