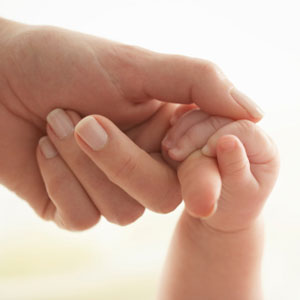 What's the one thing that all babies have in common? They're constantly growing and getting heavier. That means moms and dads have to focus on how they're lifting their child when it comes to their own backs. If you've been utilizing a baby car seat to carry your bundle of joy around town, you may have experienced shoulder, hip, or even knee discomfort recently. Here are a few tips on how to better carry a car seat from Dr. Whitney and The Wellness Connection:
Avoid The Typical Way
When you first buy a car seat, it's very easy to fall into the "typical way" to carry one. This is when you put your arm through the handle, so that it rests on the inside of your elbow, and lean back putting all the weight onto your arm, neck, shoulders. Our own Dr. Whitney Hamed admits to doing this for years until learning a new trick.
Try an Alternative Way
An alternative way to pick up the car seat is to take your hand with your palm facing upwards, put it through the handle (still resting it on the inside of your elbow), rotate your palm towards the ground, and grasp the midsection of the seat. For additional balance, Dr. Whitney recommends that you use your other hand to grab the handle at the top and take the baby in towards your center. This allows your body to remain upright while carrying your baby, instead of leaning backwards.
Not getting the hang of it just yet? Watch Dr. Whitney's Facebook video on how to save your back while carrying your car seat.
The Picnic Basket Approach
Instead of carrying a car seat with your hip protruding off to the side, which creates stress on your lower back, try the picnic basket approach. When carrying a picnic basket, you'd normally want to keep it in front of you and clasped with both hands – closer to your core near the center of your body. Holding your baby's car seat in this same way will help you maintain a long lower back.
The Importance of Engaging Your Core
One of the most crucial mistakes a parent can make when removing a car seat out of their vehicle is lifting, twisting, and bending over all at the same time. These actions can collectively cause a strain in your lower back. Instead, make sure to align your front with the car seat, engage your core, squat, and lift using both arms. The closer you can be to the car seat, the better. Once you're holding it outside of the vehicle, keep it close with a flat back and remember to continue using your core.
Support for Your Baby
While we're on the topic of baby car seats, let's also discuss how to properly support your baby's head and neck. Through another Facebook video, Dr. Whitney teaches you how. She recommends adding adequate support to the car seat to eliminate any gaps that allows your baby's head to tip to one side while seated. In order to do this, take a thin receiving blanket, roll it up, and place rubber bands on both ends. Once the baby is in the car seat, place the blanket behind any existing support systems on the left or right side – depending on which way your baby's head normally tilts. It should rest close to the ear and be tucked underneath the shoulder.
Finally, you need to move your baby's hips and bottom to the center of the car seat. If they're tipped to one side, the head will follow.
Visit The Wellness Connection for Continuing Pain
If these tips aren't helping you to recover from your arm, neck, shoulder, or back pain (or that of your baby's), give us a call at (636) 978-0970. You can also visit The Wellness Connection online to learn all about our chiropractic care and techniques. Dr. Whitney specifically specializes in pediatric and prenatal care, so you can even book an appointment before or after the birth of your child.